The Great Think-Financing Your Business
Thursday, May 11, 2017 - 8:45am to 10:00am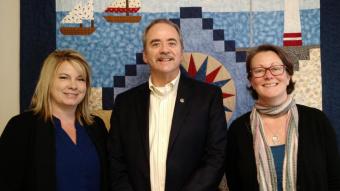 Thanks to the Plaza Grill and the North Coast Co-op for providing the space, coffee and muffins!
FREE to Arcata Chamber Members and $15 for non-members.
Wish you knew more about financing your small business? Want to make smarter decisions about loans, lines of credit, investment, crowdfunding, and more? This is your chance to ask the experts for advice. You'll come away more confident about what your business financing options are—when and how you should pursue them, and when you shouldn't.
Presenters:
Ross Welch, Executive Director, Arcata Economic Development Corporation. AEDC finances business opportunities for those who may not qualify for funding through a traditional lender. From microloans of under $5,000 to commercial property financing up to $5 million, AEDC has a range of lending options that serve the financing needs of entrepreneurs from start ups through expansions and more. Ross will share the financing options available for all of AEDC's loan programs.
Mandy Marquez, Vice President, Relationship Manager Team Lead, Community Banking. US Bank provides a variety of banking services to support your business during all stages. We work in partnership with both AEDC and SBDC to maximize the support needed for you to be successful in business.
Leila Roberts, Director, North Coast Small Business Development Center: The SBDC provides one-on-one coaching and learning programs to make sure small businesses across Humboldt, Del Norte, and adjacent Tribal Lands start up, grow, and thrive. Leila will share the most important advice and lessons the SBDC advisors give to entrepreneurs who are getting ready to finance their businesses.