Humboldt Bay Marathon
Sunday, August 9, 2015 - 8:00am
director@humboldtbaymarathon.com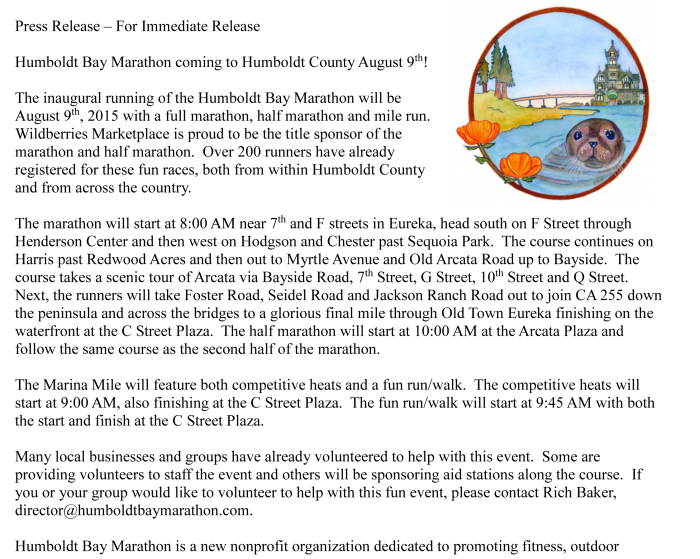 The schedule for events in Arcata :
Saturday August 8th, noon to 4 PM: Fitness expo at Wildberries Marketplace. (Any fitness, sports or nutrition related businesses may be interested in participating)
Sunday August 9th: Race Day!
The marathon runners will be coming up Old Arcata Road to Buttermilk Lane, cut over to Bayside Road, 7th Street, G Street, 10th Street to Q Street and then out to Foster Avenue.
The first marathon runners should get to Bayside a little after 9 AM and they will pass the Arcata Plaza starting around 9:15. The last marathon runner will be passing the Plaza around 11:15. (This is an enforced maximum time allowance, so the event will be completely cleared out of Arcata by about 11:30.)
Arcata Plaza: The assembly area for the half marathon will be on 8th Street on the south edge of the plaza. We are advising runners to park near the finish line in Eureka and we are providing shuttle buses to bring them up to Arcata. The first shuttles will arrive about 8:10 AM. The half marathon will start at 10:00 AM heading west on 8th street then north on J Street to join the marathon course going west on 10th Street.
There is space for vendors to set up on 8th Street where the half marathon runners and spectators will congregate. I would expect this area to be most active between 8:30 and 10:00, although spectators may stay to watch the marathon runners pass until 11:15.