Business Forums & Workshops
See the side bar for more information on each workshop!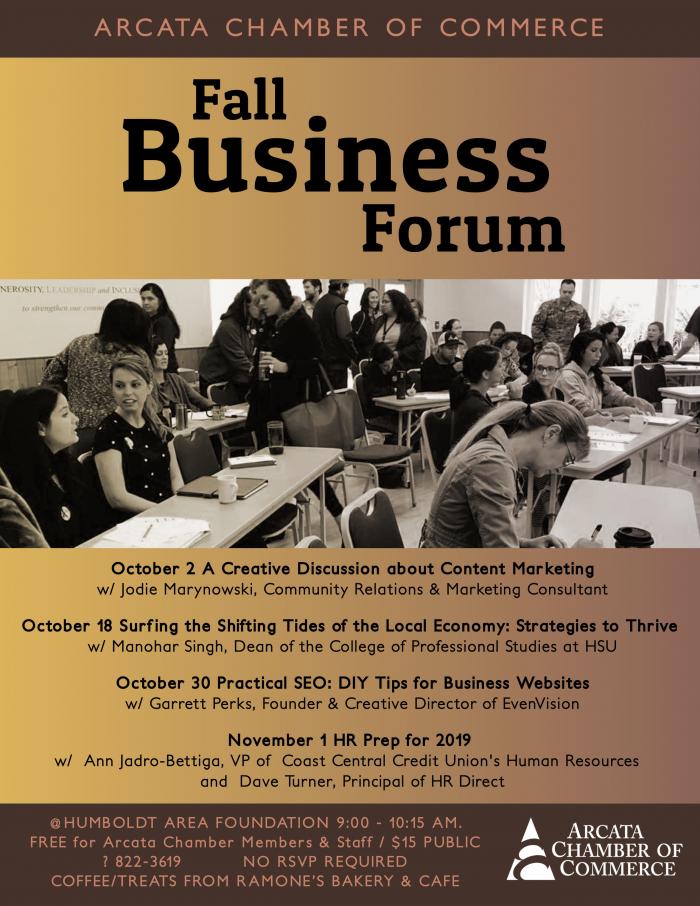 October 2 "A Creative Discussion about Content Marketing" w/ Jodie Marynowski, Community Relations & Marketing Consultant

October 18 "Surfing the Shifting Tides of the Local Economy: Strategies to Thrive" w/ Manohar Singh, Dean of the College of Professional Studies at HSU

October 30 "Practical SEO: DIY Tips for Business Websites" w/ Garrett Perks, Founder & Creative Director of EvenVision

November 1 "HR Prep for 2019" w/ Anna Jadrow-Bettiga, VP of Coast Central Credit Union's Human Resources and Dave Turner, Principal of HR Direct
The Arcata Chamber is committed to offering quality professional development opportunities both online and in-person.
We offer a workshop series each spring and fall in an effort to be a catalyst for local businesses to evolve and prosper. Not only do rotating facilitators share best practices and trends, but attendees have the opportunity to meet each other over common interests and concerns. These workshops are open to the public and free for Members and their staffs.
Look on our Facebook page and YouTube channel for videos on best business practices. We are continually updating the videos on these pages. Look for marketing tips, how to manage on-line reviews, mindfulness practices for the workplace and more.
Let us know what you're thinking about, what keeps you up at night and we will work on it together in a workshop!