Annual Business Leadership Awards
Listed below are the recipients of the 2022 Business Leadership Awards:
View the 2022 Virtual Event here
COVID-Resilient
North Coast Growers Association, Humboldt County Farmers' Market
Hospitality & Tourism
Small Business
Green Business
Nonprofit
Northern California Community Blood Bank
New Chamber Memeber
Ambassador of the Year
Carol Clymo
Business of the Year
Business Leader of the Year
Amy & Steve Bohner
The 2022 Annual Business Leadership Awards
The Arcata Chamber Business Leadership Awards Event traditionally sees the congregation of more local businesses in one room at one time than any other time of the year. In the past, it's been a great opportunity for the diverse membership to come together, connect with old friends and meet new ones, while honoring each other's achievements.
This year, we were hoping and planning for an in-person event, with Covid-safety protocols in place, at the Sapphire Palace at the Blue Lake Casino Hotel. However, due to the seasonal spike in local COVID cases, the Arcata Chamber Board of Directors and Staff have decided to modify the in-person Business Leadership Awards event.
We will move the event auction to a digital platform, in the interest of public safety, as well. Donations are still being accepted for our largest fundraiser of the year. We are deeply appreciative of the community's generosity in this regard, as we continue our proactive efforts to support local, small businesses. If you're interested in donating to or becoming a sponsor of our auction and a modified or virtual awards celebration, please contact Genesea at genesea.arcatacha.... The auction is scheduled to open on February 28th and close on March 7th, 2022.
Instead of a large in person event this year we hosted a small gathering with just the Awards Nominees at the Septentrio Winery, outdoors on February 18th, from 5:30-8:30. The, small, private event included a virtual address from California State Senator Mike McGuire, announcements of this year's award recipients (listed in a the image above), acceptance speeches, hugs and some tears. We broadcasted a live stream for nominees who prefered not to attend in person and for viewers who wanted to tune in and share in the celebration.
Watch the replay of the ceremony here.
While we scaled down the in-person festivities considerably, in light of the recent omicron surge, the event was lovely, thanks to Tynel and Jared of Septentrio Winery, Shoshanna of Arcata Main Street, our dedicated Ambassadors, the Cal Poly Humboldt Entrepreneurs Club, Arcata Chamber Board Members, and the honorable nominees.

We want to extend our deepest thanks to all of the people, businesses, and community groups who helped make this event a great success! We truly could not have done it without you.
Thank you so much for your understanding, flexibility, patience, and willingness to stay engaged.
Thank you to our sponsors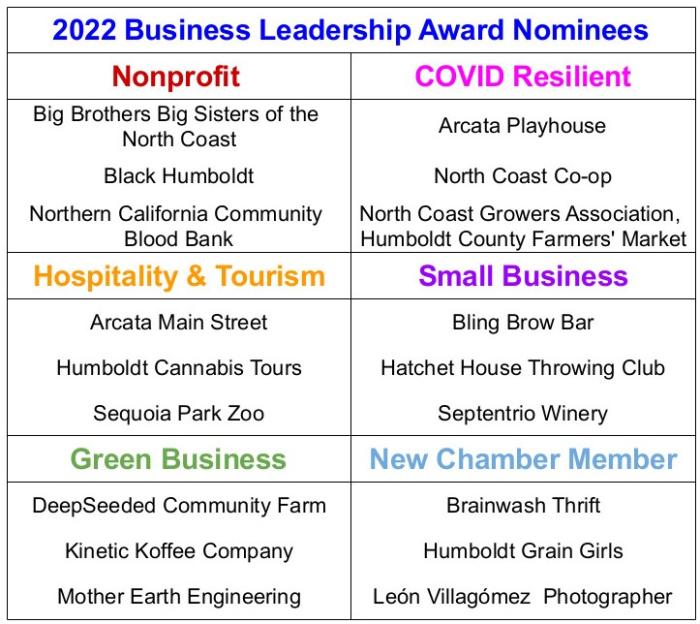 --------------------------------------------------------------------------------------------
Listed below are the recipients of the 2021 Business Leadership Awards:
View the 2021 Virtual Event here
COVID-Resilient
Hospitality & Tourism
Small Business
Green Business
Nonprofit
New Business
Ambassador of the Year
Amy Martin, HSU Academic & Career Advising Center
Business of the Year
Esteban's Mexican Restaurant
Business Leader of the Year
Jackie Dandeneau, Arcata Playhouse/Playhouse Arts