November Mixer
Thursday, November 5, 2020 - 5:00pm to 6:30pm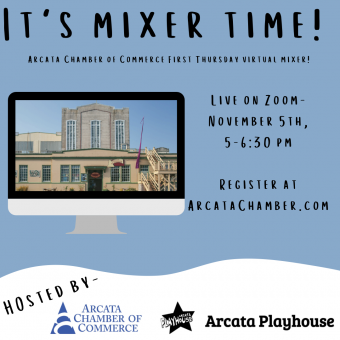 It is Mixer time again!
Stay connected with your business community, share your business updates, meet new people & join us for a good time!
Co-hosted by Arcata Playhouse.
To attend you must pre-register by clicking this Zoom link.
To purchase raffle tickets please choose from the options below:
Click here to purchase 6 tickets for $5.50
Click here to purchase 12 tickets for $10.50
Click here to purchase a Reach (30 tickets) for $22
Click here to purchase two Reaches (60 tickets) for $42
You need not be present at the mixer to win a prize!
We encourage you to buy an item or gift certificate from a local business (or your own business) and donate it to the mixer raffle! Donate by filling out your name and item in this link.