Fall Business Forum - Bringing an Equity Lens to Hiring, Retention & Job Postings
Wednesday, October 21, 2020 - 4:30pm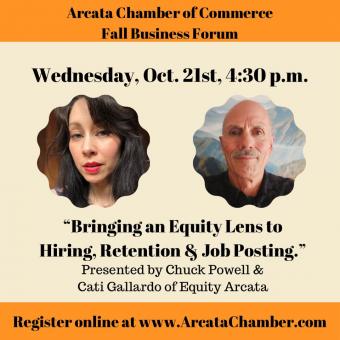 We are excited to team up with Equity Arcata's welcoming businesses working group with the aim to develop an environment of racial awareness, discussion and learning opportunities within the local business community.
Presented by Chuck Powell & Cati Gallardo of Equity Arcata.
This workshop will help you examine your business practices around hiring, employee retention and job postings with an equity lens.
Discussion and Q&A will be part of the workshop.
FREE and open to all, not just Chamber members.
Pre-registration required.
Thanks for support from