Chamber Chats Featuring Annika Slattery, HSU Library Student Assistant, & Cyril Oberlander, HSU Library Dean
Thursday, October 8, 2020 - 12:00pm to 12:45pm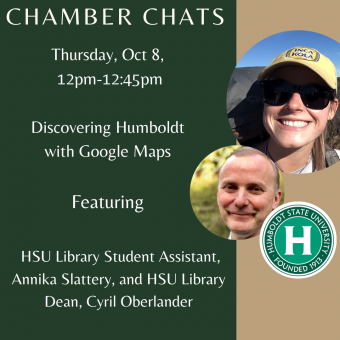 Chamber Chats is a virtual series aimed at and featuring local business people who are showing up and learning to pivot in today's environment. This is a great opportunity to stay in touch with your business community and share ideas, strength, and inspiration across industries. As always following the presentation there will be time for discussion and Q&A.
This Chamber Chats edition is entitled Discovering Humboldt with Google Maps. Featuring Annika Slattery, HSU Library Student Assistant and Recreation Administration major and Cyril Oberlander, HSU Library Dean.
See why getting Humboldt county on the map matters. Their presentation will focus on the benefits of writing reviews, and contributing photos and other information to Google Maps. They will demonstrate ways to submit reviews and contributions.
Pre-Registration required for this Zoom call.
Open to all not just Chamber members.
After registering, you will receive a confirmation email containing information about joining the meeting. Please email Arcata@ArcataChamber.com if you did not receive confirmation.
We look forward to seeing you there!