August First Thursday In-Person Mixer
Thursday, August 5, 2021 - 5:30pm to 7:30pm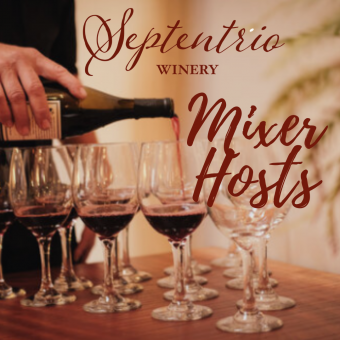 650 6th Street Arcata, CA 95521
This is an outdoor event, masks are required as well as social distancing while in attendance regardless of vaccination status.
Our in-person mixer is happening this evening, 5:30pm-7:00pm, OUTDOORS at Septentrio Winery. We have consulted with county and city officials on the health and safety of holding this in person gathering and we feel we can proceed safely. We understand that another shut-down will have a huge negative impact on our small businesses and we want to help them strive and survive. Our hosts at Septentrio have been taking full safety precautions with their staff and they are excited to welcome the community at their lovely establishment this evening.
For those of you that cannot make it in-person for the mixer we are excited to live stream it on our Facebook page. Please join in the fun by watching from your own home. Purchase raffle tickets online before 3:00pm today to be included in the raffle. (See raffle ticket links below.)
We will begin the livestream at 5:45pm for mixing and mingling. The program begins at 6:15pm on the microphone with announcements from the Chamber, a short presentation from our hosts, member announcements (buck-a-cluck) and raffle and door prize drawings. We hope you will join us on Facebook.
For people attending in-person, raffle tickets can now be purchased at the event.
If you wish to pre-purchase raffle tickets, please do so BEFORE 3 P.M. August 5th.
For online purchase, choose from the options below:
Click here to purchase 6 tickets for $5.50
Click here to purchase 12 tickets for $10.50
Click here to purchase a Reach (30 tickets) for $22
Click here to purchase two Reaches (60 tickets) for $42
We encourage you to buy an item or gift certificate from a local business (or your own business) to donate. It is a great way to showcase your business or those of your peers in the community.
You can bring your donation to the event or we'll bring it for you, should you decide not to attend. If you'd like to donate without attending, please contact us by clicking here. Thank you!