Workshops
See the side bar for more information on each workshop!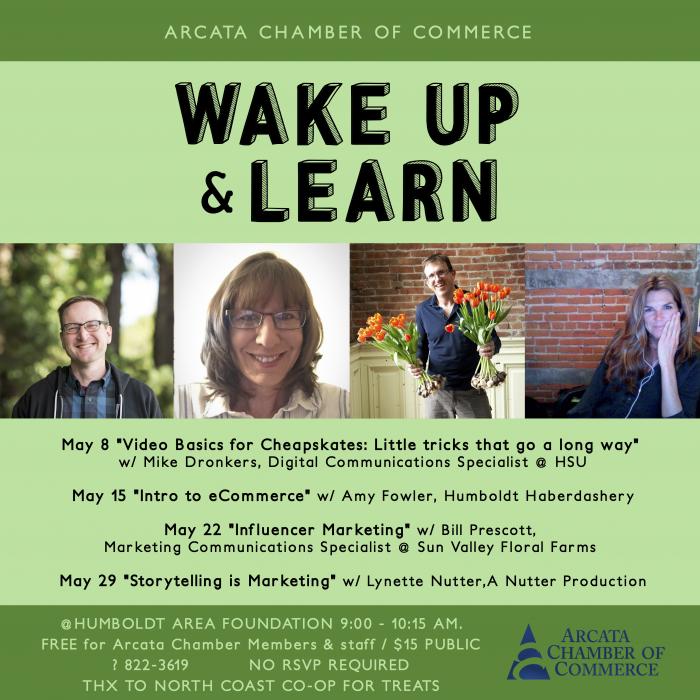 May 8 "How Video Can Work for You" w/ Mike Dronkers, Digital Communications Specialist @ Humboldt State University

May 15 "Intro to eCommerce" w/ Amy Fowler, Humboldt Haberdashery

May 22 "Influencer Marketing" w/ Bill Prescott, Marketing Communications Specialist @ Sun Valley Floral Farms

May 29 "How to Tell Your Story" w/ Lynette Nutter, A Nutter Production
The Arcata Chamber is committed to offering quality professional development opportunities both online and in-person.
We offer a workshop series each spring and fall in an effort to be a catalyst for local businesses to evolve and prosper. Not only do rotating facilitators share best practices and trends, but attendees have the opportunity to meet each other over common interests and concerns. These workshops are open to the public and free for Members and their staffs.
Look on our Facebook page and YouTube channel for videos on best business practices. We are continually updating the videos on these pages. Look for marketing tips, how to manage on-line reviews, mindfulness practices for the workplace and more.
Let us know what you're thinking about, what keeps you up at night and we will work on it together in a workshop!